N1081A
NIM Four-Fold Programmable Logic Unit
NIM Logic Unit with user-selectable functionalities

 

A single unit to suit a wide range of logic functions

 

Logic gate, counters and timers functions

 

4 independent sections, each with:

 

• 6 NIM/TTL input

 

• 4 NIM/TTL output

 

Touch screen display with user-friendly widgets to configure each section, monitor real-time output data and access the online help

 

Low IN-OUT delay: about 20 ns

 

Ethernet (1 Gbps) and USB2.0 connectivity

 

Web interface to remotely control the module and access advanced features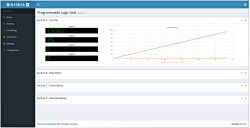 Overview
The N1081A is a laboratory tool that incorporates in a single NIM module the most common functionalities that you need to implement the logic capabilities of your experiment. 
The module is organized in four sections, independently configurable according to one of the available pre-programmed functions, like scaler, counter, fan IN-OUT, timer etc. The section programming can be done using the touch screen display or via the web-interface. Each section hosts 6 inputs and 4 outputs (selectable impedance) accepting TTL/NIM signals. Each section integrates a discriminator with programmable threshold and an asynchronous Gate&Delay with 5 ns resolution. This allows the user to trim at best the needed parameters and performs accurate measurements. 
On the touch screen, each function is associated to a widget, for quick configuration and monitor purposes, and an online help with cabling instructions is directly accessible on the display. It is also possible to merge different sections to extend channel capabilities for a certain function. 
The web-interface allows the user to remotely configure the instrument, monitor the functions output, dump data on file or history chart and access to the most advanced features, like the logic analyzer. 
Web Interface
N1081A integrates a web server that allows the remote control and data monitoring using a standard web browser from PC or mobile devices. No software installation is required! 
Using the Web Interface is possible to configure the four sections, view the function output, dump data on file and access extra information not supported by the touchscreen display. For example, it is possible to view the history on chart, set a target value, reset the output value and access the logic analyser to monitor all N1081A I/Os on chart. Thanks to Ethernet connectivity, all these operations can be performed far from the unit. 
Developed in collaboration with 

Form factor

NIM module
Functions

AND/OR/majority

Fan IN-OUT

Gate&Delay

Veto

Coincidence

Scaler

Rate Meter

Counter

Timer
No. of sections

4
Input per section

6 NIM/TTL
Output per section

4 NIM/TTL
I/O delay (ns)

20
Connectors

LEMO
Counter max. frequency

50 MHz
Integration gate

1 μs … 3600 s
Power consumption

1.4A @ +12V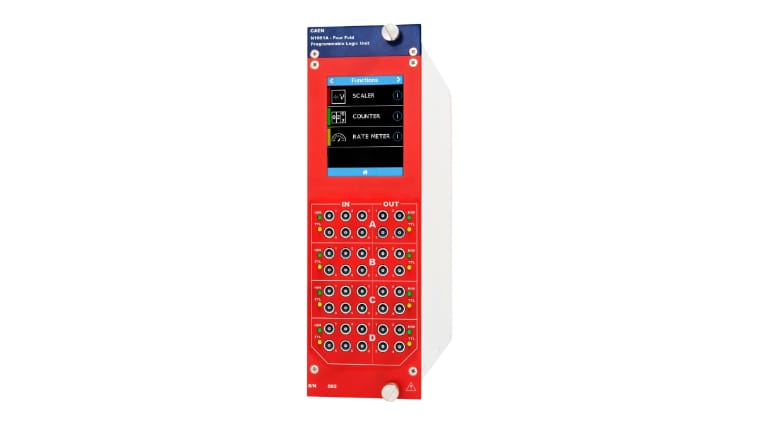 Documentation
Software
Firmware
Ordering Options
Code
Description
WN1081AXAAAA
N1081A - Four Fold Programmable Logic Unit

RoHS