GAMON Portal
Pedestrian and Radiation Portal Monitor for gamma neutron detection at access point
Features
Wired and wireless communication interfaces for system configuration and monitoring from the main control station
Detection technology selection for both gamma and neutron probes based on application and requirements
High efficiency gamma spectroscopic detector and energy spectrum stabilization
Onboard web interface for an easy configuration and data storage for long autonomous data taking
Scintillator detectors NaI(Tl), CeBr3, LaBr3(Ce) or NaIL™ for gamma and neutron detection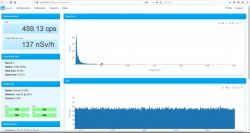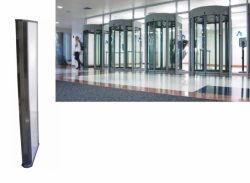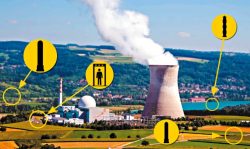 Overview
The GAMON Portal is pillar shaped gamma or gamma/neutron counting or spectroscopy system designed for portal monitor family.
GAMON Portal has been designed for infield real time radiation control of elements passing through the portal for security controls in sensitive access points.
The family is made by two main types of portals:
the Pedestrian Portal Monitors (PPM) for human
Radiation Portal Monitors (RPM) for the monitoring of vehicles in transit
GAMON Portal systems detect both gamma and neutron emitters and can also identify the detected gamma radionuclides included in pre-selected libraries. GAMON Portal systems also take advantage of a real-time data processing combined to automated background subtraction algorithms to alarm in presence of both artificial nuclides and SNM in a short time window. In case of RPM the algorithm takes into account also the vehicle shielding effect to do not overestimate the background and have a more reliable system answer.
OPERATIVE SCENARIO
GAMON Portal Pedestrian Portal Monitor (PPM) and Radiation Portal Monitor (RPM) are designed to be used in the following scenario:
Access, exit and security inspection points for the monitoring of person and vehicle in transit
Sensitive locations as public buildings or event locations
Custom inspection points or border control
First inspection points based on alarm systems for the detection of both gamma and neutrons
Secondary inspection points based on spectrometric systems for the identification of the source