CAENPLLCONFIG
CAEN Digitizer PLL Configuration tool
This SW in no longer in use. It has been replaced by the new CAENUpgrader software tool
User friendly software tool for CAEN digitizers PLL settings (frequency, phase shift etc.)
Easy storage and loading of saved configuration file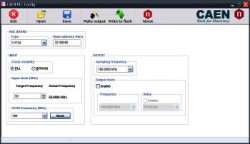 Overview
This SW in no longer in use. It has been replaced by the new CAENUpgrader software tool
CAEN PLLConfig is an application tool which allows to configure the PLL of VME CAEN Digitizers.
This tool is provided ready to be run with CAEN Bridges ( V1718 / VX1718, V2718 / VX2718, A2818) using the APIs provided by SDK (cvt_V1724.h, cvt_V1724.c).
After installation, before launching the program, it is necessary to edit the configuration file and to set the parameters (see manual).
Note: for compilation requires wxWidgets 2.8.10 Library (www.wxwidgets.org)