C111C
Ethernet CAMAC Crate Controller
Full CAMAC bus control with LAM detection
Full control via embedded dynamic web server
Available NIM I/O functions: outputs, inputs, event counters, pulse generators and trigger/busy modules
Default I/O settings recallable with a dedicated pushbutton
ANSI C remote control library, with extensions for local resources control
Monitoring of crate voltages
Embedded script interpreter for C-like code local execution, with CAMAC/NIM functions
Stored script can be automatically launched at power-up (e.g. for crate initialization)
X and Q signals on last access, user LEDs fault, status and NIM default indicators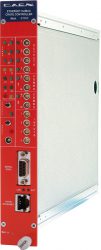 Overview
The Mod.C111C is a complete CAMAC controller, housed in a double width CAMAC module, that allows advanced interaction by means of standard Ethernet services,such as a local web server and TCP socket based communication protocol.The internal processor runs a version of Linux optimized for low memory footprint.
A CAMAC bus control subsection handles all bus access operations and interactions,including LAM detection;a separate NIM subsection manages I/O signals located on the front panel: four outputs, four inputs,event counters and two "COMBO I/O " (trigger/busy)modules. The dynamic local web server,perfectly suitable for crate setup and maintenance,allows advanced monitoring and control without the requirement of dedicated software installation, meanwhile, an embedded script interpreter allows the local execution of C-like code, with full control on CAMAC and NIM functions. Front panel indicators include X and Q signals on last access, four user LEDs (controllable from script) and fault, connection status and NIM default indicators.
Packaging

2-unit CAMAC module
PC Interface

Ethernet 10/100
Programmable I/O

4 In / 4 Out / 2 Combo
CPU section

Processor: ARM7TDMI running at 44 MHz
Operating System: uClinux ver. 2.4.17
FLASH: 4 Mbytes
SDRAM: 16 Mbytes
Serial port

38400 baud, 8-N-1, no flow control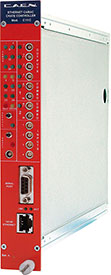 Documentation
Software
Firmware
Compare
Compare with Controllers (ALL).
Ordering Options
| Code | Description |
| --- | --- |
| WC111CXAAAAA | C111C - Ethernet CAMAC Crate Controller (Obsolete) |