A2519
8 Channel 15V/5 A (50 W) Individual Floating Channel Boards
Features
8 independently controllable Low Voltage channels
Individual Floating Channel
Individual remote sense lines
Full Digital PID Control Loop
DB37 or 8 pin D-Sub connectors
5÷15 V output voltage with 1 mV set resolution
5 A current full scale with 10 mA set resolution
50 W Max channel output power
1 mV Voltage Monitor resolution
1 mA Current Monitor resolution
Voltage ripple smaller than 10 mV pp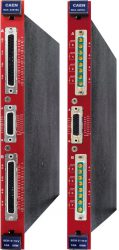 Overview
The power supply A2519 is a single width board (5 TE wide) that houses 8 independent Low voltage Individual Floating channels. The A2519 is available in different versions equipped with D-Sub 8-pin or with DB37 connector:
D-Sub 8 pin high current connector
– Single width (5 TE wide), 8 channel (Mod. A2519)
DB37 connector
– Single width (5 TE wide),8 channels (Mod. A2519A)
Consult our connectors reference page for technical information
A2519 Individual Floating channels allow on-detector grounding, reducing the noise level. The floating channels are insulated from each other up to ±500 V.Each output channel is provided with individual remote sensing lines to compensate for the voltage drop over the connection cables.
The output voltage range is 5÷ 15 V, (1 mV steps) with 1 mV monitor resolution (connector and sense voltages). The maximum output current is 5 A (10 mA steps) with 1 mA monitor resolution. The RAMP-UP and RAMP-DOWN Times may be selected independently for each channel in the 1 ÷ 200 ms (1 ms step).
The Maximum channel power is 50 W. Channels can be connected in parallel with modularity 2 or 4 to obtain higher output power (for 2/4 modularity Iset resolution is 100 mA and Imon resolution is 10 mA).
Channels feature a PID (proportional integrative-derivative) digital controller, whose parameters (Kp: Proportional gain, Ki: Integral gain, Kd: Derivative gain) are user programmable. In this way, the control loop can be optimized to any load conditions independently for each channel.
Safety features include:
Overvoltage detection: if a channel voltage exceeds the programmed Overvoltage threshold value (OVVThr), it is signaled to be in "overvoltage" and is switched off.
Undervoltage detection: if a channel voltage decreases below the programmed undervoltage threshold (UNVThr) it is signaled to be in "undervoltage" and is switched off.
Overcurrent detection: if a channel tries to draw a current larger than its programmed limit, it is signaled to be in "overcurrent" and is switched off.
A global enable/disable connector allows to disable the channels and it is also possible, via front panel logic signals, to enable individually each channel (only for A2519A).
No. of Channels

8 (Individual Floating)
Polarity

Floating
Output Voltage

5÷15 V (connector output)
Max. Output Current

5 A
Max. Ch. Output Power

50 W
Voltage Set Resolution

1 mV
Voltage Monitor Resolution

1 mV (connector and sense)
Current Set Resolution

10 mA
100 mA (2/4 modularity)
Current Monitor Resolution

1 mA
10 mA (2/4 modularity)
Overvoltage/Undervoltage thresholds

5÷15 V settable for each channel
Overvoltage/Undervoltage thresholds resolution

10 mV
Ramp Up/Down Time

1÷200 ms
1 ms step
Voltage Ripple

Typical <10mVpp
Maximum <20mVpp
RTN - GND Isolation

±500V
A2519
8 Channel 15V/5 A (50 W) Individual Floating Channel Boards
Product page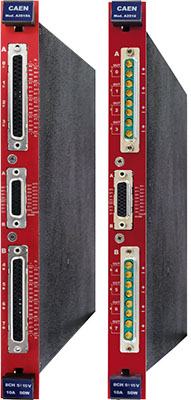 Documentation
Software
Firmware
Compare
Compare with Floating Low Voltage Power Supplies.
Ordering Options
| Code | Description |
| --- | --- |
| WA2519AXAAAA | A2519A - SYx527 L.V. channels 15V 5A (50W) - DB37 conn. Individual Floating (8 ch) |
| WA2519XAAAAA | A2519 - SYx527 L.V. channels 15V 5A (50W) - Individual Floating (8 ch) |